Specialized Services for Commercial Property
Tecumseh Locksmith has a full line of hardware and services designed to increase the security of your commercial property and business assets. We offer many different types of keys and locking systems providing various levels of protection and functions. Your peace of mind is important to us.
Commercial Locksmith Applications
Tecumseh Locksmith is more than capable of handling all types of standard locks and keypads within your commercial property. The type of commercial applications we frequently called to service include the following.
Storefronts
Office buildings
Apartment Complexes
Warehouses
Storage Facilities
Industrial Operations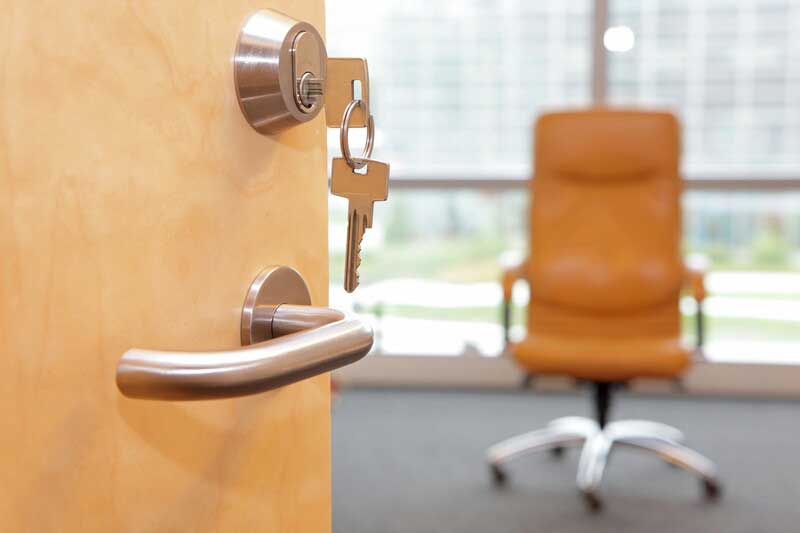 Keyed and Keyless Systems
Every commercial property has several secured points of entry. Whether you own a store, an office, or an apartment complex, you will need several different keys allowing restricted access to certain areas. For high traffic security such as an apartment building entry, we can recommend a superior grade locking system that will stand up to constant use and abuse.
Master lock systems are the answer when you have varying levels of security in one building. Master locks allow some users to have full access while others have more limited access. However, you will need a professional locksmith to understand and install the system properly.
For even higher security areas, we can install keyless entry systems that use keypads with single or multiple key codes. Tecumseh Locksmith also works with smaller locks within your commercial property such as desks, filing cabinets, and so on.
Commercial Locksmith Services
Master Locks
Keypads
Superior grade locking systems
Storefront locks
Re-keying and upgrading
Key-cutting and replacement keys
Anti-duplication keys
Filing cabinets, desks, padlocks
Tamper-resistant locks
Warehouses, storage areas, garages
Multi-Locksmith Services
If you own a commercial business or property that requires several different types of locksmith services, Tecumseh Locksmith is the professional to call. In addition to securing your commercial property, we can secure your warehouse, storage, and equipment locks as well as provide automotive locksmith services to your fleet of commercial vehicles. Don't hire different locksmiths for separate parts of your operations. Call one professional who can provide full locksmith services.
---